"Cause I just discovered
Imagination's taking over
Another day without a lover
The more I come to understand
The touch of my hand"
When Britney Spears said this, every woman who's self-sufficient to calm herself down could relate well.
Since time immemorial, Vaginal Masturbation has been the primary sexual activity for ages. Gone are the days of the 19th century when it was considered to be a disease and was prohibited for women.
And in the 20th century, it's the new cure with countless educative female masturbation videos to guide you with the correct techniques.
Nevertheless, endless myths have been revolving around female masturbation, and one of them is that it causes infertility. Can Female Masturbation Cause Infertility? – the question has always been there. This gives a robust idea of how much taboos revolve around womasplaining yourself.
Are you the one who landed here just to know what's wrong with touching yourself?
Sit back and Relax!
Calm down your soul and
Read till the end to get a reality check – Does Vaginal Masturbation Cause Infertility?
Female Masturbation Causes Infertility- Myths Vs Facts 🤔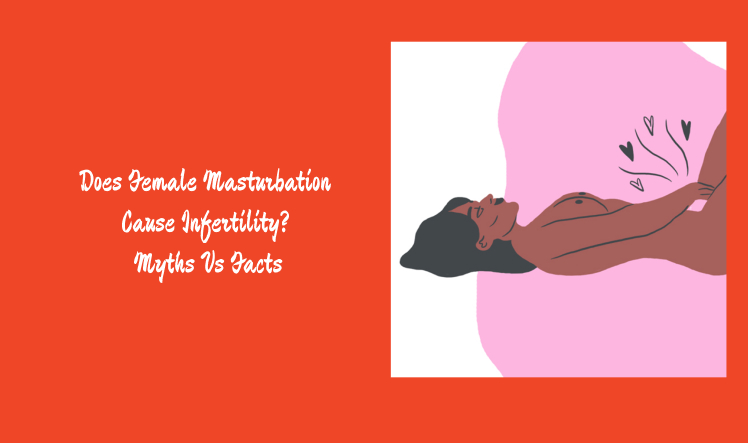 The shortest answer is No, not at all. Masturbating doesn't affect your fertility. Infertility happens due to a number of reasons. Your genitals, age, or gender, vaginal masturbation cannot affect your ability to attain motherhood for that matter.
I know you have heard this somewhere and rushed to check facts out of nowhere, thinking that your solo pleasure is at stake, right? Worry not; the hooha lovin' has nothing to do with conceiving. Rather it can bounce your degraded sexual life back just like a thrashing mountain stream full of sex waves. 
However, there might be other factors responsible for your infertility that you are overlooking, such as:
Polycystic Ovary Syndrome (PCOS)
Primary Ovarian Insufficiency
Poor lifestyle including excessive alcohol and tobacco intake, junk foods, Drugs, improper sleep, etc.
Abnormal sperm production in your partner
Genetic defects, diabetes, infections, exposure to toxins, in males
Myths Related To Women Masturbation 😂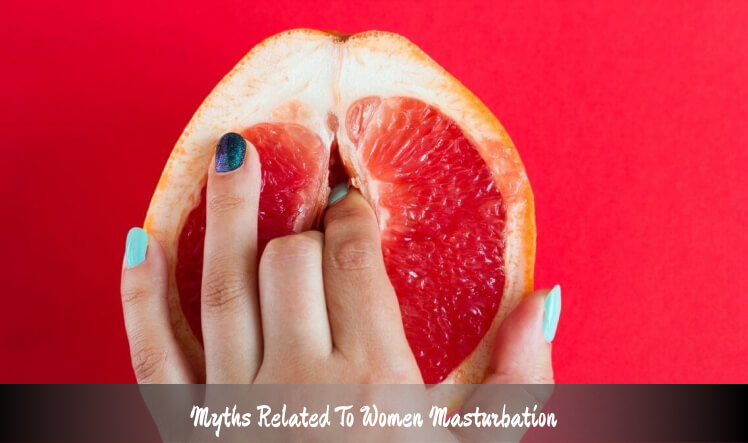 No wonder humankind is weird. In spite of belonging to the 21st Century where we are standing at the center of daily scientific discoveries, myths and taboos regarding women masturbation have no end. Especially when the internet is flooded with billions and trillions of seductive female masturbation videos, fallacies like this sound sarcastic.
Below are the most hilarious questions all of us come across every now and then:
🤢 Can masturbation cause pregnancy?
I mean Whattttt????? Are you out of your mind?
🤢 Does female Masturbation affect implantation?
How's this even possible on earth?
🤢 Does Vaginal Masturbation Affect Ovulation?
Oh No!!!!!!
🤢 Does female Masturbation increase fertility?
At Least something a little sensible.
🤢 Does Female Masturabation Cause Infertility?
Leave aside myths….Mastur-A-bation? What's that???
🤢 Does Female Masturabation Cause Hormonal Imbalance?
I can't take this anymore!!!!!!! Again Mastur-A-bation??? And how it can imbalance your hormones? That's ridiculous.
Different Strokes For Various Peeps😍
Now you have the answer to "Does Female Masturbation Cause Infertility?" Did you know there is a whole film franchise developed around humping the "apple pie."
This is the time to break unrealistic and unjustified stigmas.
We have a fun list of various categories of female masturbation techniques according to the sensations you would like to feel to get turned on:
1. Clitoral
Do you have trust in yourself? If not, then trust your oyster's pearl. Clitoral orgasms will give rise to earthquakes from your top to toe along with a euphoric shockwave down your spine.
2. Vajayjay
This one takes you to "that max zone" radiating all along your pelvis. Your vagina is where the Empress Of Your Lady Parts dwells. Yes, I am talking about the G-Spot. Sex toys are fun but nothing can surpass the sexual tremor your fingers can create here.
3. Erogenous Zones
You don't always need to focus down there during a solo female masturbation session. For a voluptuous time, give yourself a sexy combo pack containing different erogenous zones. Stimulate every pleasure point in your body such as the inner thighs, neck, behind the ear, and nips for a bombarding crazy pleasure.
4. Anal
Super powerful orgasms happen through anal masturbation as well. All you have to do is go slow and gentle to make your sphincter habituated with some smutty female masturbation techniques.
Some Master Tricks For Your Craving Soul 😉
Want A Wham Bam Thank You Ma'am good time but lacking the perfect experience? We have brought a whole 411 on finger painting yourself to take the sexy solitaire to the next level.
1. Wet And Wild
Planning for a clit appreciation day? Ain't no shame in lubrication. Extra Wetty means Better Orgasms. Try some extra doses of tingling sensation in your lady part and see the magic.
2. Keep Fantasizing
What are your preferences? Rough sex or smooth and gentle lovemaking? That cute guy with a charming smile in the metro or the adorable boy with luscious hair on the street? Hot sex positions or exhilarating foreplays? Doesn't matter what sails your vessel but fantasizing sensual scenarios gives you +massive temptation.
3. Slow and Gentle
I know being rough and quickies feel great but for long-term horniness, go for solo foreplay. Instead of waiting for any sweetheart, weave around with masturbation styles in different erogenous zones. Until you get the big bang, build your sensations up by exploring your gifted body.
Some pinches? Stokes? Flicks? Rubs? Tickles?
Play as much as you can through a tantalizing solo female masturbation to pulse yourself with ardor.
4. Open Your Toy Box
"I just want mind-boggling sex tonight, but I don't think you can beat my vibrator," – Anonymous.
Different sex toys switch your mood up in different ways. But instead of sticking to vibrators and dildos, you can bring some twists. Like Rubbing your body against a pillow – trust me the friction will make you feel "Ooh La La."
5. What About Some Porn Or Erotics?
Undoubtedly porn gels well with self-pleasure. Thanks to the creators since there's a myriad of porn genres that are clicks away. There is nothing more ecstatic than watching a passionate adult scene and letting your fingers fill you with rhapsodies.
Furthermore, if you don't believe in "Avenue Q's" saying – "the internet is for porn," try a sex mag or nudie novel to stimulate your imagination.
Does Female Masturbation Cause Hormonal Imbalance?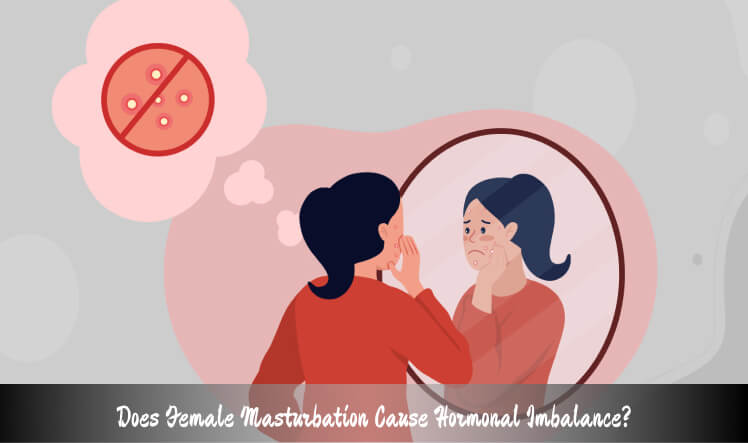 Sexologists all over the world are fed up with this question – Does Female Masturbation Cause Hormonal Imbalance?
Well, technically it doesn't imbalance but helps to release a healthy amount of hormones giving a de-stressing experience. That's the reason why Divinyls said,
"When I think about you
I touch myself
Oh, I don't want anybody else
Oh no, oh no, oh no, yeah"
Want that striking pleasure?
Half an hour of solo female masturbation will convince your body to release Dopamine, Oxytocin Prolactin, and Endorphins.
Does Female Masturbation Affect Ovulation? 😥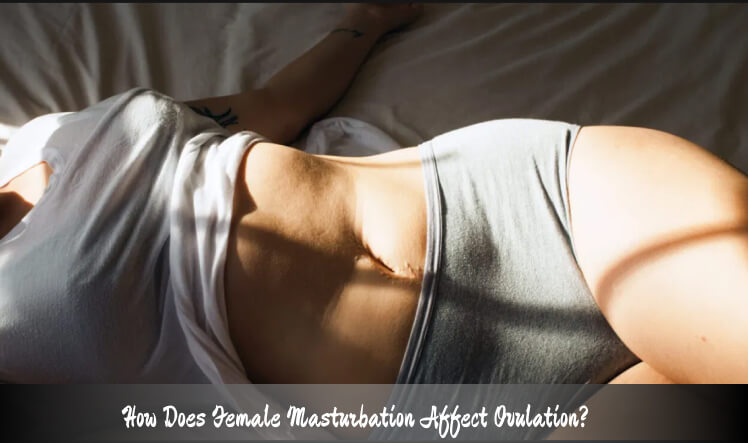 Another crash landing query the internet is flooded with: Does Female Masturbation Affect Ovulation?
Sweetheart, ovulation occurs when your ovary releases an egg and it waits in the fallopian tube for a sperm to be fertilized. Once the sperm cells fertilize the egg, it goes on to implant in the uterus initiating the PREGNANCY phase.
If you don't have someone to play with in bed, this egg remains unfertilized and passes through the vagina in the form of menstruation. Masturbation cannot ever control your ovulation cycle.
Frequently Asked Questions
Q1. Does Female Masturbation Cause Infertility?
Masturbating doesn't affect your fertility at all. Instead, it can be healthy, pleasurable, and beneficial until and unless you don't do it excessively. So the answer to "Does Female Masturbation Cause Infertility" is NO.
Q2. Does Masturbation Impact Menstruation?
Women masturbation sometimes causes menstrual bleeding to start. However, this part of medical science is under-researched. Generally, people feel aroused while masturbating around the time of their periods. 
Q3. How Can Female Masturbation Benefit You? 
There is not a single reason to believe that women masturbation affects implantation. Implantation happens between 6-12 days after ovulation and 8-9 days after conception.
Q4. Can Masturbation Cause Pregnancy?
Masturbation has no connection with causing pregnancy. Pregnancy is all about hormones, intercourse, ejaculation, ovulation, and menstruation. 
Q5. Does Masturbation Cause PCOS?
If you ask does masturbation causes PCOS, the answer is NO. There is no linkage between women masturbating and PCOS. It's a medical condition that needs a specialist's attention after diagnosis. 
Love Yourself Girl….. 😘
Darling,
"Even if times are tough and you're enduring a terrible heartache, it's important to focus your anger on a vibrator, not another person." – Chelsea Handler, My Horizontal Life: A Collection of One-Night Stands.
The main theme of this blog was to clarify Does Female Masturbation Cause Infertility. I hope you have got your desired answer.
To sum up, women masturbation never ever affects fertility levels, be assured about it. If you are finding it difficult to get pregnant, pleasing yourself is not the reason in the first place. Schedule an appointment with an Obstetrician-Gynecologist. Most importantly, speak about it with your partner; discuss, and share your concern with him because my dear, he could also be the reason.
So, stop searching " Does Female Masturabation Cause Infertility " on Google from this moment
Cut all kinds of tension….
Create The Ambience
Set The Mood
Flick The Bean
Find The G-Spot
And Kaboom!!!