You have met the most incredible man out there. The first few months are casual and breezy, a whirlwind romance of sorts. It feels like you have known him forever – you know that feeling when a stranger starts feeling familiar? Yes, that's exactly what I'm talking about.
"Arousing You, Arouses You."
I love those first few weeks, right before a couple reaches their first fight. I would love to even go through that – the first fights are always so bittersweet. I remember how my boyfriend had turned up outside the restaurant I was having lunch at with a friend because he wanted to make things fine.
But that's precisely the problem! After the first few months, when the love dust settles down, you have no idea what to do when your boyfriend is mad at you! But you don't really need to worry because I do know the answer.
And it will sound shallow, but the answer's hiding somewhere between sending over food to sleeping with your man! You are not convinced, I guess? You will be. Soon.
F**k Texting! I Want You Here…
The only reason why you have ended up here is that you have no idea when he is mad at you, and it's highly possible that today is one of those days! So like any self-dependant millennial, you landed up on Google looking for answers to a universal question, 'what to do when your boyfriend is mad at you?'
Most sites online will talk about mindfulness and how there's nothing more important than space, especially after a fight. But that's easier said than implemented. I mean, if relationships were positive, as experts say on paper, then these questions wouldn't be so popular on Reddit!
"What's better than a good girl, who's only bad for you?"
So, I am going to do something different. I am going to talk about quick-fix solutions that can end those stupid fights that keep happening because,
Your hormones overreacted. NOT AGAIN!
You have been apart from each other for some time. Unfortunately, your emotions got the better of you, and there was some shouting involved.
Your partner misunderstood you and made you mad. LOL!
A thousand other things didn't happen, and that made you mad, which in turn made your partner mad.
Yes, space is important, but sometimes you have to screw texting and actually physically be present in front of your guy! Watch your man engulf you in his arms and enjoy a nice, long, sweet makeout session…or more.
Of course, relationships are subjective. And so are fights in the relationships. But if there's one truth that is universally acknowledged, then that's the best way to end a fight in a relationship. Before writing this article, I asked several of my female colleagues, and they have all been unanimous with their answers.
So is dealing with a man that easy? Scroll down to find out more on the same!
I'm Pretty Sure I Deserve A Spanking…
Yes, that's precisely what you could say to lighten things up, or you can be more subtle if it's a new relationship or if the matter is a little more serious than you thought! Yes, having no contact after an argument is normal between couples, but why not turn the situation into something we all love – an opportunity to have lots of sex!
"I get horny during arguments."
Scroll down and find out what to do when your boyfriend is mad at you!
Innocent Face. Dirty Intentions.
Are you wondering 'how to make him miss me after an argument?' Yes, it sounds toxic, but sometimes, relationships are messier than you can fix. I mean, you might say that 'distance makes the heart grow fonder,' but I can reply, 'out of sight. Out of mind.'
So you never know whether having no contact can sort things out for sure. So why don't you make an innocent visit to your boyfriend's house? There's just one rule – you gotta look innocent. No one's gonna look inside your head because you might look innocent, but the intention? 100% dirty!
You know what I mean – I don't need to tell you how to turn your man on and make your dirty dreams a reality!
Whatever Daddy Wants, Daddy Gets.
Have you heard about hero instinct? Well, it's true and works in a majority of situations, probably why the whole daddy kink is such a hit with Millenials, Gen Zs, and even boomers for some strange reason. But, once the fight is over, don't waste too much time on space!
Instead, spend some time using a blend of psychology and kinks to unravel the hero instinct in your man. On the surface, it should seem like things are happening at a pace as chosen by your partner, but of course, you are going to call all the shorts.
Simply ask for help and watch your partner forget about the fight and help you out instead! In fact, let your boyfriend know how you are in a tight spot and require urgent savings. You will find him by your side in the blink of an eye.
And if nothing works out, there's always one thing you can resort to – attack him when he's vulnerable and sleep with him (forgive my toxicity, but it works. Every time!)
Tomorrow Is Another Day, And I Shall Bribe You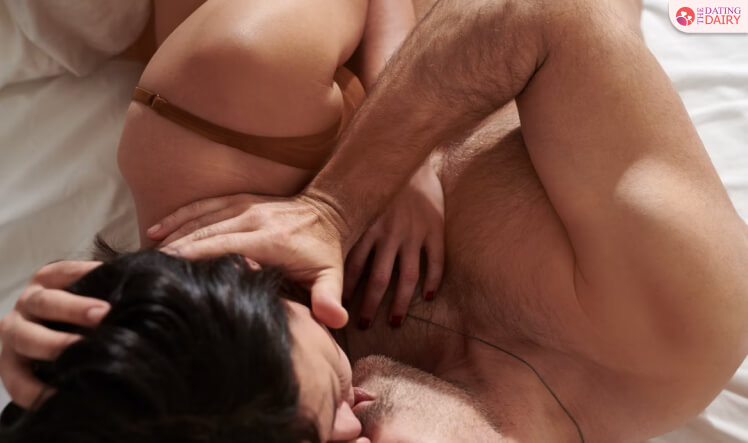 I never realized this was a method to make your boyfriend calm down. But the other day, when I figured out that my boyfriend was mad at me, I was actually bribing him, and he totally called me out. So now he is smart, and then we have been together for years now. I have used all the techniques in the book, but that doesn't mean it won't work for you!
"I need a hug or an orgasm. Or a hug and orgasm, a hugasm."
If you guys are in a long-distance relationship and you don't know what to do when your boyfriend is mad at you, just get his favorite food delivered. Nah, flowers won't do the trick. Not even chocolates. You gotta shell out some cash and get his favorite food delivered. At least he'll call you!
Bribes can come in any form – from sending over his favorite food if you can't meet him to showering him with unnecessary affection in case you guys live together, bribes always work!
Frequently Asked Questions:
1. How Do You Make Him Stop Being Mad At You?
If you are wondering how to make your bf not mad at you, then follow the steps mentioned below, 

• Cook him a nice meal.
• Bribe him with affection, sex, or even food.
• Have a mature conversation.
2. What Do You Text A Guy After A Fight?
There can be several texts you can send a guy, especially after a fight! Here's what you can say,

• I am sorry. And I don't like all this space between us. So let's talk it out?
• We both said things I'm sure we both regret. Please, please understand that this is hurting both of us. Let's end this fight. I love you, babe.
• Even I'm mad at you. But I miss you a lot. Do you miss me?
3. How Do You Make A Guy Happy After An Argument
The best way to make your man happy after an argument is to leave him alone. If you are in a healthy relationship, chances are your boyfriend will ask for space. There are some men who can't leave you alone, but it's best to steer clear of such men. 
4. How Do You Make A Guy Realize He's Losing You?
The best way to make your man know he is losing you is by simply making it clear that you are ready to walk out. Ultimatums always work out so well – if you haven't tried them out, then you must see for yourself if you get the results you have been looking for! 
And Just Like That, Everything Was Fine Again…
You might be thinking, 'he always hurts my feelings,' or 'aren't my feelings valid?' Of course, they are, honey!
But life is way way, way different than the utopic description shining on the pages of self-care books. Even if you are in a healthy relationship, there's no guarantee that it will be all smooth!
Now that you know what to do when your boyfriend is mad at you, you can safely try these techniques out for yourself! And don't forget to let us know your thoughts on the same in the comments below!
Additional Reading:
Barsha Bhattacharya
Barsha Bhattacharya is a senior content writing executive. As a marketing enthusiast and professional for the past 4 years, writing is new to Barsha. And she is loving every bit of it. Her niches are marketing, lifestyle, wellness, travel and entertainment. Apart from writing, Barsha loves to travel, binge-watch, research conspiracy theories, Instagram and overthink.