Being Single Might Be Fun At First, But Not For Long
"I'm done being scared. I'm done living in a world where I don't get to be who I am. I deserve a great love story."

-Love, Simon (2018)
Are you tired of being single because you don't have time for socializing with people? Don't feel bad about it, because I know you are not the only one. I was also like you, all alone and depressed in my room, believing that love does not exist. Thankfully, it all changed one day when I downloaded a dating app.
Which dating was humble enough to give my love life the spark? It wasn't just one app. I used multiple apps to find many interested (and triple the number of uninterested) people online. Finally, after a few great dates, I believe I found whom I had been searching for for so long.
Therefore, if a loner like me who is tired of his 9 to 5 job can find love amidst a pandemic, I believe you can too. Therefore, try out these best dating apps and see which one lets you meet your Vivian or Edward!
Digital Love Made Easy – Finding The Best Dating App In 2022
"It's not about finding your perfect half. It's the trying, the reaching, and the failing."

-The Half of It (2020)
Gone are the old school ways of men chasing after their dream girl, stalking her till she at least looks back at him. While that might sound creepy (and it is), it was socially acceptable back in the day.
However, after two world wars and a 21st-century pandemic, the internet has become the place for lovers to meet each other. While Facebook and Instagram are not exactly made for love, they have been overused by creeps and fake profiles so far.
Therefore, I would highly recommend you to turn your attention here and choose a dating app from the list below to get started!
Best Dating Apps In 2022
I would highly recommend you turn your attention here and choose a dating app from the list below to get started!
1. Tinder
Tinder is the first dating app that started the craze about finding love online. Tinder made the entire "swipe left swipe right" formula work for years, which soon got copied by other apps on this list.
Tinder is by far the simplest app to use among all the apps stated here. All you need to do is create a profile, upload some hot pictures of yourself, create an interesting bio, and probably add a link to your Instagram page and mention your "anthem song" from Spotify.
2. Bumble
Bumble decided to follow Beyonce's song Who runs the world? Girls! Made as a dating app made by girls for other girls, it provided a twist in the classic old take of men making their first move. Here, women make the first move and decide whether the man is worthy of her or not. This is what would have probably happened if men lived in a matriarchal world.
3. Hinge
If you are looking for some serious love, I highly recommend downloading Hinge. Famous for promoting quality interactions, this dating app has one of the greatest features I would definitely want all dating apps to have – conversation prompts.
For introverts like me, starting a conversation interestingly is necessary to make the first impression. However, not everyone is a natural when flirting. Therefore, starting a conversation with help from the application feels like a blessing.
Also, you can add voice notes to your profile so that others can hear what you would sound when they meet you for the first time.
4. Kippo
Being a nerd, I used to play video games all day, thinking that no woman would ever find someone like me attractive or interesting. However, after my friend suggested the dating app Kippo, I was happy to see I was not the only one.
This app is like a safe haven for gamers and nerds. Built with the concept of it being a massively multiplayer simulator, this "game" allowed us gamers to shed our self-loathing skin and actually find a potential romance outside of RPG and hentai games.
The visual aesthetic of this application is great, which lets gamers make geeky profiles to express themselves. However, it only has audio chat functionality, which can be a letdown for people who use text chat a lot.
5. Match
Ever hear your grandparents telling you to find love at first sight before it's too late? Unfortunately, the older you get, the harder it gets to maintain your physical beauty at its peak levels – unless you are Madonna.
Made for mature singles looking to rekindle their romantic lives with someone new, Match is the perfect mature dating app. The app sure does know how to have a great business model – you pay a membership fee to use this app. However, they know that you are at least not financially broke at this old age (I guess).
Therefore, when you create your profile, the app asks you many questions to narrow down potential matches for you. After all, most people do not want casual flings at this age. So step in only if you are serious.
6. OKCupid
Cited as one of the oldest dating apps after being around for 18 years, OKCupid attracts people of all ages and backgrounds to come in and say hello (in the most flirtatious way possible). This dating app makes finding love very specific with its long-form profile pages.
Upon creating an account, the app also asks you several questions to streamline your preferences and narrow down results. If you are tired of swooping left and right on Tinder, this app is best for you since it lets you meet people who actually have very similar interests.
7. Eharmony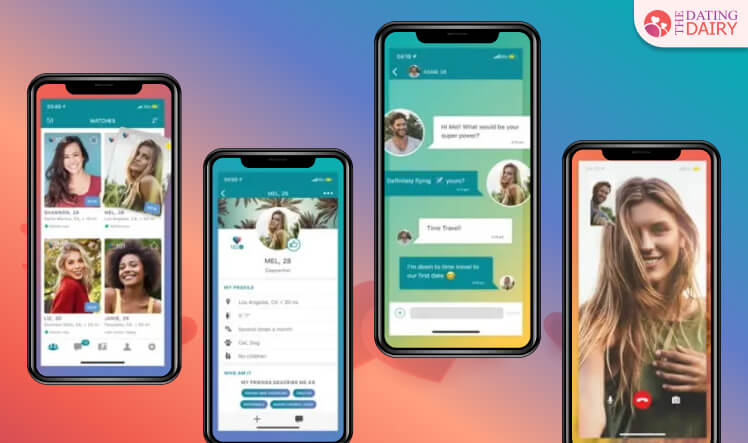 If you are tired of having multiple short-term relationships and flings for years in a row, then even psychologists will say that you require a serious relationship. This is where Eharmony comes in to make it all last longer.
Marketed as a dating app for singles looking for serious relationships, you will get a serious vibe when you start creating your account. This mega personal dating app will ask you lots of questions so that it can curate your search results. This is perfect for serious daters who are tired of the highs and lows of their previous relationships and think it's time to settle down.
8. Happn
If you are frustrated with your life and think that sex can provide some temporary relief, then you just need to make it Happn. While you do not necessarily need to be frustrated to use this dating app, it matches you with the closest user to you based on your geographical location.
Best for hookups on the go; you can make it all Happn by simply turning on your GPS and just exploring your city. It scans your nearby locations and lets you meet the closest user to you, be it at a bookstore or a nightclub.
9. Plenty Of Fish (POF)
When your pockets are the least full, should you be looking for love at the end of the month? Fret not since there is plenty of fish available for you.
POF (Plenty Of Fish) is the best dating app for talkative singles who are not up for a quick date and spend lots of money on their first attempt. However, if you love to chat first for a few days before making your first move, then this app lets you do just that – without even connecting with other users. Therefore, this app is perfect for you to practice and hone your flirting skills before finding your perfect match.
10. Elitesingles
Most believe that with fame and power, finding love becomes easy. However, the truth is far from it. Elitesingles is made for the elites of society, who are highly educated with great jobs, but still somehow failed to find true love.
This celebrity dating app is made to hook up highly successful singles who find it difficult to find love when everyone else is beneath you (in their eyes only). If your thought process is like this, then sign up right away!
11. Her
Finding Her being a lesbian is not easy at all. Therefore, this queer dating app is here to make matters easy for you. So, if you are a queer girl and you want to meet and form a meaningful relationship with other queers by breaking all societally acceptable stereotypes, then download this lesbian dating app right now and give it a shot.
12. Grindr
Grinding and hustling for success has somehow defined toxic masculinity for ages now. However, veering clear from that and finding love in another man takes guts, especially if society is not entirely comfortable with this idea to this day and age.
Therefore, open up the Grindr and start looking for your partner using this gay dating app.
Frequently Asked Questions:
Q1. Which Dating Site Is Best For Serious Relationships?
Eharmony is the best dating app for serious relationships. 
Q2. What Dating App Is For Free?
Tinder still reigns supreme as the top free dating app. 
Q3. Do Dating Apps Actually Work?
Yes, they will work if you put in some effort to post aesthetic pictures of yourself and make a good bio. Also, good flirting skills are welcome. 
Q4. Are Dating Sites Safe?
While it is difficult to judge whether the accounts are fake or real, this is a difficult question to answer because different people have had different experiences. 
Love Is In The Air – You Just Need To Find It
"I don't want to sound foolish, but remember that love is what brought you here. And if you've trusted love this far, don't panic now. Trust it all the way."

–If Beale Street Could Talk (2018)
The heading above is valid for all. No matter where you live, your gender, beauty, and sexual preferences, I believe you just have to be patient with finding the right partner to understand what is true love.
In this digital age, this has become a tad bit easier because of the invention of a dating app. These are great apps that just take different routes to make you meet who you are fated to be with. Or, you can simply take it into your own hands and change your destiny.
If you want to read more in-depth guides about each of these dating apps, simply follow the links to their pages here at The Dating Dairy!
Debamalya Mukherjee
Debamalya is a professional content writer from Kolkata, India. Constantly improving himself in this industry for more than three years, he has amassed immense knowledge regarding his niches of writing tech and gaming articles. He loves spending time with his cats, along with playing every new PC action game as soon as possible.