I have always seen such a different personality take over when people get drunk. This is perhaps why drinking games for couples or just adults, in general, have gained so much popularity in recent years. The best part? You can always blame it on the alcohol later.
Feeling extra competitive and ended up acting like Monica? That's cool, it was the alcohol!
Choosing to be brutally honest and ended up saying a few regrettable things? That's cool, too, you can blame that on the alcohol too.
Made out with your best friend and ended up worried about losing out on the friendship? That's cool, and you can blame that on the alcohol too.
Yes, yes, blaming it on alcohol is ALWAYS the safest idea out there, especially if you want to save your social reputation after a regrettable evening.
Are you currently on the brink of entering a new romantic relationship? Or are you already in one? You need to get your partner drunk and indulge in some good ol' game time. Scroll down and check out all the games you must try out…and all the ones you shouldn't!
Drunk In Love: Drinking Games For Couples…Made Only For Lovebirds
The thing about any game in 2022 is that you are likely to find both an online and offline version of the same. So naturally, the idea of drinking games for couples app is not something that you can ignore. But you know what?
Always, always, always settle down for the versions that can be played offline. So let's check out the most popular drinking games for all the lovebirds out there – because staying sober is not an alternative, especially when you are in love!
Two Truths And One Lie:
Our Rating: ⭐⭐⭐
Did We Like It? It was okay, but the game can use some more spice, especially if you are looking at a long evening and perhaps an even longer night.
There are several couple drinking games that were initially made for all occasions, including the sober ones – and then came the alcohol twist. Two Truths And A Lie is also one of those games that you can always count on!
Here's how you can play Two Truths And A Lie!
First, reveal two truths and a lie.
Now, ask your partner to identify the two truths and the lie.
If your partner guesses right, you drink, but if he gets it wrong, he'll get the drink – sounds fun…right?
Never Have I Ever:
Our Rating: ⭐⭐⭐⭐
Did We Like It? It's one of those classic drinking games that you can play at different ages as long as you have the right people around you - so make sure your partner is ready to make the evening entertaining. 
A classic in its own way, Never Have I Ever, will never go out of fashion. But the best part? It is one of those drinking games for couples that you can also try out with any of your friends. You know a little trial and error can never harm you!
Here's how you can play Never Have I Ever!
Start with a line like 'never have I ever been arrested.'
If your statement is true for both of you, then both of you will have to drink.
In case the answer turns out to be 'No,' then nobody gets to drink at all.
Flip, Sip, Or Strip:
Our Rating: ⭐⭐⭐⭐⭐
Did We Like It? We love it! Flip, Sip, Or Strip is everything - it's interesting, exciting, and super hot!
If the evening has the potential to turn into something hotter than what you initially expected, then this one is surely meant for you and your partner. After all, who doesn't want to get a little dirty on some nights?
Here's how you can play Flip, Sip, Or Strip!
Toss a coin and let your partner make a guess.
If your partner makes an accurate guess, they can drink.
But if your partner makes a wrong guess twice, then they will need to get rid of a clothing item.
Find The Spot: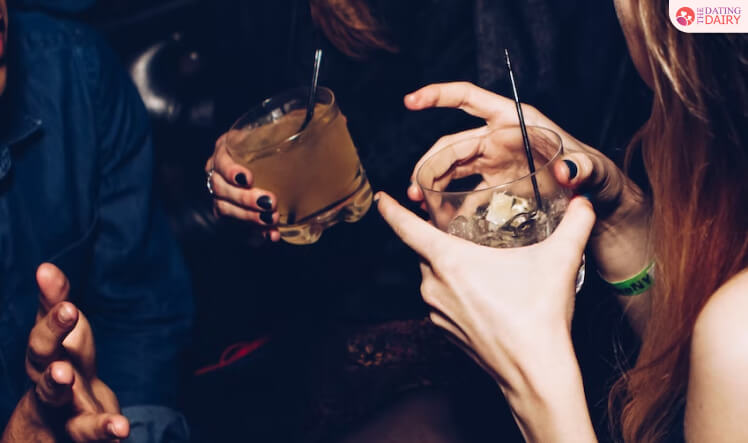 Our Rating: ⭐⭐⭐
Did We Like It? This game can be fun, but then again, you will end up way too much drunk than you intended - the point is to enjoy the buzz, not pass out!
This romantic and simple game, Find The Spot is one of those couples drinking games that are perfect for couples seeking to fulfill a few makeout fantasies. You just have to try and make as many correct guesses as possible in the course of the same.
Here's how you can play Find The Spot!
You can begin the game with questions like, 'where do I like being touched the most?'
Provide three options at least so that your partner can choose one.
For every wrong guess, your partner gets a drink, and for every correct guess, both of you get to drink.
Eye Contact: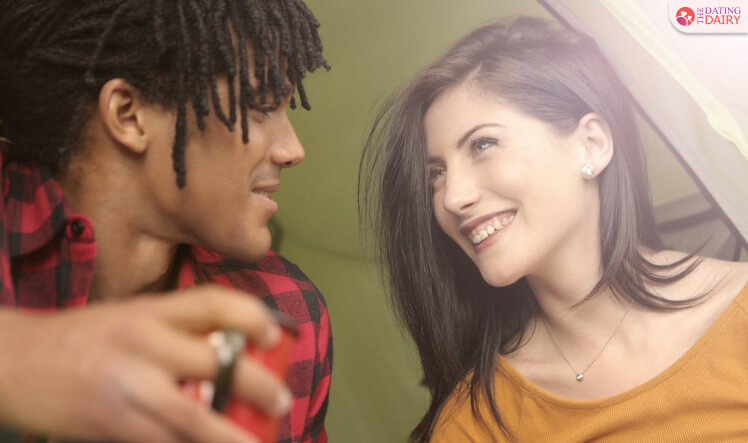 Our Rating: ⭐⭐⭐⭐⭐
Did We Like It? Absolutely. We didn't just like it, we loved it! There's not.
The game of eye contact is a tale as old as time – if there's chemistry burning between the two of you, then this game might make the sexual tension unavoidable. And think about it! It's so easy to organize. Our advice? Plan for a long night because things are bound to heat up.
Here's how you can play Eye Contact!
Sit down with your partner and stare into each other's eyes.
Whoever blinks gets to drink.
Drunk Jenga:
Our Rating: ⭐⭐⭐⭐⭐
Did We Like It? Absolutely. It was such a fun game and perfect for couples who have been friends for a long time. 
When you think about all the drinking games for couples that you could have played, Jenga is not the first thing that pops inside your head. But guess what? There's nothing better than playing Jenga when you are drunk.
Here's how you can play Drunk Jenga!
The naughty version of this popular game will ask you to draw blocks alternatively.
Every time you draw a block, your partner can ask you to do something kinky and hot.
If you are unable to perform something kinky for your partner, then you will have to drink.
Snakes and Ladder:
Our Rating: ⭐⭐⭐
Did We Like It? While altering most childhood games for fun can prove to be a good idea, snakes and ladders might not be the right game for the same. 
Snakes and Ladder used to be the perfect children's game years ago. But who said adults couldn't play the game anymore? But the difference is you can add some alcohol to the game and spice things up for a change!
Here's how you can play Snakes And Ladder!
Play the game like it's supposed to be played.
Every time someone climbs a ladder, they have to drink up.
But if you lose out on the position, then you will just have to strip!
Drunk In Love: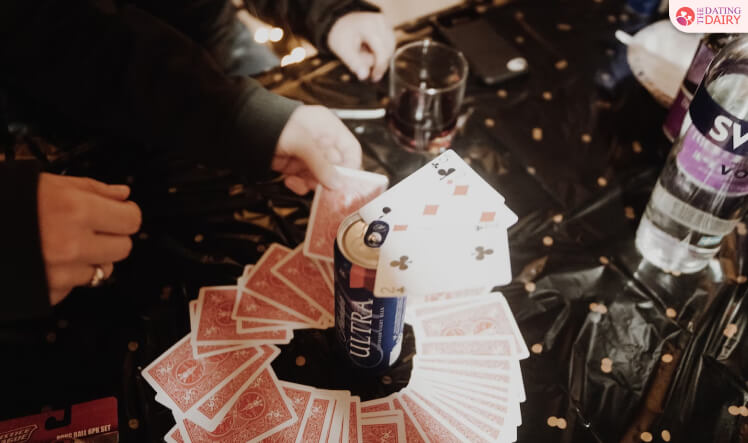 Our Rating: ⭐⭐⭐⭐⭐
Did We Like It? We love card games and, as a result, absolutely loved the same! We recommend this one for every drunk night you have in your mind. 
There are several drinking card games for couples, but Drunk In Love is perhaps the OG drinking card game, and if you haven't tried it out, it's high time you should try the same. If you are a fan of card games, then you must try this one out!
We promise it's going to be more fun than you are currently expecting to have, especially if you are both fans of card games. What's wrong with a tipsy stript ease accompanied by a fun card game? Nothing, really!
Find The X Spot:
Our Rating: ⭐⭐⭐⭐
Did We Like It? We love this game, but the only problem that we encountered was how fast it could get you drunk. Again you don't want to pass out in the middle of a drinking game!
Of course, you do not really require a reason to make out with your partner, but in case you still needed, then you can just play these fun drinking games for couple. All you need to do, in this case, is make a small mental note of everything you desire and think of the same as X spot.
Now, you or your partner will get about 3 chances only to guess about the location of the X spot. Correct guesses can prove to be quite good, while inaccurate guesses will make you or your partner drink three shots in a row.
Frequently Asked Questions:
Check out the most frequently asked questions related to drinking games for couples mentioned below.
1. What's A Fun Drinking Game?
The most popular drinking games are as follows,

• Kings Cup,
• Drunk Jenga,
• Thumper,
• Straight Face,
• Flip Cup, and
• Buzz
2. What Is A Fun Two-Person Drinking Game?
The most popular fun two-person drinking games are as follows

• Flip, Sip, or Post,
• Never Have I Ever,
• Speed Facts,
• Movie Drinking Games,
• Caps,
• Truth or Dare or Drink,
• Battle Shots. 
3. What Are The Top Drinking Game Questions For Couples?
The top drinking game questions for couples are as follows,

• What attracted you the most about me?
• Whom do you love the most in the world?
• What's the most lovable thing about me?
• Do you think we will make it?
• Do you love spending all your time with me? 
4. What Video Games Should Couples Play Together?
Couples can play the following video games together,

• Don't Starve Together,
• Rayman Legends,
• Diablo III,
• Portal 2,
• League of Legends,
• Overcooked,
• Mario Party, and
• A Way Out.
Drunk And Playful: The Games We All Want To Play!
Every time I thought of indulging in drinking games with my partner, the only thing I could think about was those fun drinking games for couples with cards – sounds perfect, right? Yes, it's not a great idea, but if you don't enjoy playing cards, then it can turn out to be a bummer.
But if you do, then there are so many card-drinking games for couples out there – you just gotta explore! In the meantime, tell us what you think about these drinking games, and if you have any experience indulging in such games, feel free to share your experiences with us in the comments below!
Additional Reading:
Barsha Bhattacharya
Barsha Bhattacharya is a senior content writing executive. As a marketing enthusiast and professional for the past 4 years, writing is new to Barsha. And she is loving every bit of it. Her niches are marketing, lifestyle, wellness, travel and entertainment. Apart from writing, Barsha loves to travel, binge-watch, research conspiracy theories, Instagram and overthink.