In this modern everything is online, so why should your relationship and love life be any different? When Tinder launched itself as a dating app after being rebranded from match.com, it opened a floodgate of online dating apps. And one of them is eHarmony, that become a popular dating app.
If you are new in this world of online dating, then before you start using them, you should know beforehand what you are getting yourself into.
So that's what here is a rundown of the dating app eHarmony, keep on scrolling through the article to know everything about the app.
Features Of eHarmony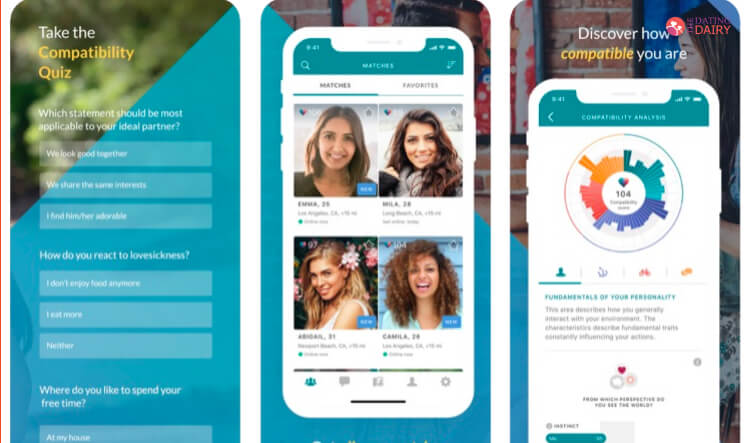 The most important thing that you should know about an app is its features, as in what the app actually offers to its customers. And for eHarmony offers the following features to its customers.
1. Search Feature
With the help of eHarmony it's not that the app algorithm is searching you your suitable match. No, with eHarmony, you are actually in the driver's seat and choosing your match by yourself and without any help from the algorithm.
2. SMS Verification
With eHarmony, you are able to verify your account with sms verification. You will be getting a text after your account is all ready and set up.
3. Integrated Video Chat
A new feature that eHarmony has updated is that you can video chat with your match, even without exchanging your phone numbers. This way, you can verify if you are getting catfished or not.
4. Free Communication Weekends
If you are not yet sure about whether to join eHarmony or not, then you won't have to worry about that. With the feature of free communication, you can use a few of these features for absolutely free and try them out before signing in for the app.
5. Profile Completeness Requirements
The one thing that eHarmony takes very seriously is that the profiles on the platform are all fully complete. This would stop catfishing and you getting catfished as well.
Advantages And Disadvantages Of eHarmony Online Dating App
When you are first using a dating app, there are a few things that you should compare, and that is the advantages and the disadvantages of using the app.
Advantages Of eHarmony
Before we go towards the disadvantages it's better to talk about the advantages of eHarmony and what things they are doing good.
1. Focused On Compatibility
The questions that eHarmony asks are pretty long and quite detailed this is because they are dedicated to finding a compatibility match for you at any cost. This way you are not wasting your time with someone you have nothing in common with.
2. Attracts More Serious Daters
eHamony is very much invested in finding singles who are looking for a serious relationship. They don't waste time with people who are just looking for a hookup.
3. Verification Process For Added Security
There is a long verification process when it comes to making a profile on eHarmony. From Identification to phone number verification, they do it all for the sake of safety.
4. Video Dating
A new feature that eHarmony introduced is video dating, where you can video chat your match. This is a safe way of knowing whether you're talking to a real person or not. In this situation, you won't have to exchange numbers even.
Disadvantages Of eHarmony
Now that we are aware of the advantages of using eHarmony, it's now time to know all the disadvantages of using the app.
1. No Instant Gratification
The dating process on eHarmomy can be a long and tedious process as you are just talking to each other online. The feeling of gratification is not as fast as you might think from online dating apps.
2. Memberships Are Expensive
To become a member of the dating app, you have to pay a membership fee which is quite hefty than other online dating apps. The membership fee for eHarmony ranges something in between $40 – $60 each month.
3. The Free Trial Is Limited
Even though eHarmony has a feature of a free trial of the app before you officially sign in. Although the features are quite limited and not as useful as you might think. Other competing apps have more features even in their trial version as well.
4. There Are No Swipe-Style Features
Using Tinder, we are all habituated to swiping left and swiping right, but with eHarmony, there is no such feature, so things might be a bit confusing at first. Most dating apps, unlike eHarmony, are leaning towards the swiping feature, which is a big disadvantage for eHarmony.
eHarmony Pricing
After seeing everything, the one thing that is going to create a difference with you using the app, is the price of membership. So here are the different packages that eHarmony offers to its subscribers.
| | | |
| --- | --- | --- |
| Membership Type | Membership Lenght | Membership Cost |
| Premium Light | 6 Months | $69.90 per month |
| Premium Plus | 12 Months | $49.90 per month |
| Premium Extra | 24 Months | $39.90 per month |
eHarmony: Customer Reviews
Before you think of subscribing to the app, you should think of going through the reviews left by other users as these will help you make an informed decision.
"How do you allow accounts without pictures? I have said hello to people, and they don't respond one way or the other. They should have to either respond and say not interested or something like that, or they should delete the match and not leave someone hanging. When I asked for help, they implied it's my fault for not being flexible in my choices or not reaching out." – Iclough.
"Eharmony absolutely needs to be completely removed from your article! NO way in heck are they the #1 dating site. My nicknames for them are E-UNharmonious, and E-harmful." – Deb
"They (eharmony) have changed quite a bit since the founder stepped out. In their profile suggestions, they say not to mention God. They say the separation of church and state. When I fill in the questionnaire, the only questions about spirituality were to check off my religion." – Sandra L.
Once you subscribe to eHarmony, regardless of monthly or yearly, it's impossible to cancel. They lock you in for a year even if you wanna cancel after a month, you decide you don't want it anymore. I'm a transgirl, and it's a bad idea to join eharmony where all men want vaginas. I only got one message after 3 weeks of joining, so it's not gonna work for me on the site, but I'm stuck paying monthly until I finish 1 yr contract. Don't fall for it. It's not worth it. – Michael
This dating site is the worst, all wrong matches! Did not use them after about 6 months of my 1-year contract, and then I was 1 day late in canceling, and they charged me 500.00 for another year and fought with me about the cancellation. So many other sites out there to use that are less expensive, better, and more flexible with contracts. As if the whole online dating thing is not hard enough. eHarmony adds to the problem; not helpful to consumers at all. – Jeanette
Wrapping Up!
In this modern day and age, it is all about making life easier for the general population. So if through these online dating apps, like eHarmony, it is becoming easier to meet and date people, then we should definitely use it.
But that doesn't mean we should invest in such dating apps without knowing whether they would work or not, so only use it after knowing them properly. So if you liked this article then give it a like and comment down below.
Read Also:
Nabamita Sinha
Nabamita Sinha loves to write about lifestyle and pop-culture. In her free time, she loves to watch movies and TV series and experiment with food. Her favorite niche topics are fashion, lifestyle, travel, and gossip content. Her style of writing is creative and quirky.