One of the most common dilemmas that many people go through from the beginning of February is getting some good valentines day ideas. Unfortunately, with time, all the old ideas are becoming boring. So, everyone wants to get some new ideas to spice up the special day with their partner.
Don't worry; you do not have to look for a long time; we came up with some ideas that will help you make the day special. So, make sure to go through the details to find the best valentines day idea for you based on your preferences.
10 Unique Valentines Day Ideas To Try In 2022
Here are some handpicked unique ideas that we have collected for you. Go through them to choose the best one for your special day.
1. Recreate The First Date
Whether you have dated first in 2 years or 10 years ago, the exact moment is something that you will always remember. Moreover, it is one of the moments that you want to relive. So, make this Valentine's day special by recreating the exact moment.
It might seem silly, but it sure brings out some memorable moments. It will surely bond up the relationship more and bring a spark. If you are looking for romantic valentine's day ideas, this is one of the few to choose.
2. Create An Album
Valentine's day helps a lot to boost relationships and make some memories. Instead of thinking and talking about the old memories, you can create an album. An album is the best option to keep some special memories together. Bring your partner and create an album with the latest pictures to remember the special times you are spending together. It is a unique gift on Valentine's day that you can choose.
3. Play Indoor Games
No, you do not have to do something that 2 adults would do on valentine's day. You can become a bit younger for this special day and let your inner desire out. There are many indoor games available that will help you to have a very good time at home. You will be able to spend a lot of time with your partner and connect with them. Compared to virtual valentines day ideas, this one is far better to make the bond stronger.
4. Go To Favorite Spot Together
Another very good thing that you can do is visit a favorite spot together. There are plenty of places available that you love to visit, right? Take your partner and let them see the place through your eyes. It is one of the romantic things that will help you both to understand each other better. Whether it is close to nature or a dance bar, the element of surprise will be there.
5. Write A Letter To Express Your Feelings
One of the best things you can do is write a letter to your partner. Although most people consider love letters to be an old idea, it is still very effective. There are many people who can express themselves better through words compared to face-to-face conversations. While it gives you the opportunity to open up, it comes with the old touch to make it special for you.
6. Create A Gift
Ordering gifts or purchasing from shops are now becoming old. You need to become more creative to make them feel special on Valentine's Day. Instead of purchasing a gift. You can make one that will help you save some money and make something for them. Handmade things tell better stories compared to purchased items. It will show your effort and make the item special for your partner. It is one of the old but unique Valentine's Day ideas you can choose.
7. Play Some Karaoke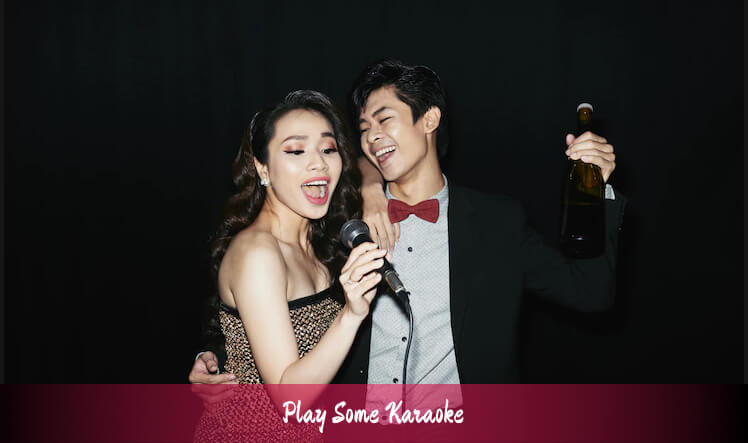 If you are a musical couple and love to sing for each other, you can take part in Karaoke romantic night. Nothing is more romantic than signing a duet with your wife and enjoying the moment together. Choose some love songs in advance to have a smooth experience during the karaoke. Compared to common ones like Valentine's day cake ideas, this one is very unique and good.
8. Go Shopping
Another very romantic idea to spend your Valentine's Day together is going shopping. You can visit different parts of the city to shop for both you and your partner. There are many couples who love to go shopping together and buy things for each other. There is no better way to spend Valentine's Day than doing what you love with who you love. Also, there are plenty of malls and outlets available to help you get the things you love.  
9. Complete Some Tasks From The Checklist
You can take your partner and do some things you have been trying to do but could not. Daily life stress and pressure prevent us from doing a lot of things. However, most people have thoughts of doing some things with their partner.
Going for a long ride, visiting a particular place in the morning, meeting some common friends, and many more. Well, you can utilize this day to do all of those things with your partner. It is one of the best Valentines Day ideas that you can try to make the special day memorable.
See Also
10. Go For A Photoshoot
To make every valentines day special, you can go for a photoshoot this valentines day. There are plenty of Valentines Day photoshoot ideas available that you can choose from. It might not become very memorable now, but you will be able to remember this Valentine's Day for a lifetime. Also, you can take a look at the photoshoots and remember the past.
Frequently Asked Questions
Q1. How Do You Spend Valentine's Day In Lockdown?
Lockdown has changed a lot of aspects of our life. However, there are still many things we can do to celebrate every event, even in lockdown. As long as you are maintaining all the social distancing and safety measures, here are some of the best ways given below. 
• Share screens and watch romantic movies. 
• Decorate your home. 
• Cook favorite meals of each other. 
• Order heartfelt gifts through delivery. 
• Play online games together.
Q2. What Should I Do On Valentines Day?
Running out of ideas is one of the common things that people face after staying with one person for 2-3 years. Well, if you have tried all the common ideas, here are some different ideas that you can try this valentines day. 
• Visit a board game cafe. 
• Decorate the tree for valentines day tree.
• Take the sailing lessons. 
• Enjoy the smash session at the rage room. 
• Try to be a Nascar driver. 
Q3. What Should I Do For Valentine's Day 2022?
A plethora of ideas is available that you can choose for Valentine's day 2022. Here are some handpicked ideas that you can choose from. 
• Go for an outing and eat some street foods together. 
• Participate in some outdoor activities. 
• Cozy up in a resort or hotel. 
• Play indoor games with your loved ones. 
• Watch favorite movies together. 
Q4. What Can I Do For Valentines Day At Home? 
Here are some ideas to spend your valentines day at home. Choose the best ones based on your preferences. 
• Plan a small picnic indoors.
• Netflix and chill. 
• Order a favorite meal and eat together. 
• Play board games. 
Conclusion
Choosing a Valentine's Day gift is not as easy as you think. There are plenty of things that you need to keep in mind. It is not very easy to get the perfect gift for your partner. We have made it a bit easier for you by providing some best options. Make sure to go through the Valentines Day ideas to choose the best one for you. If this article has made your Valentine's Day special, make sure to share it with others.
Additional Reading:
Akram Mondal
Akram Ali Mondal is an experienced professional in the field of Digital Marketing with a myriad of experiences in enabling brands to accomplish goals. With a sound expertise in different aspects of SEO, SEM, Affiliate Marketing and data-driven marketing, Akram is a thriving marketing consultant as well as a brand maker.