Falling in love is a lot like an adrenaline rush, only it lasts longer…for most of us. It makes me emotionally slutty – I overshare, I walk a few extra miles, and I am always always ready to give a little more than necessary.
Falling in love is a lot like getting high. On most days, it makes you calm, almost as if there are no worries in your life, and the world is a big, bright, beautiful place. But then there comes the darkness, and suddenly, it starts feeling like a bad trip.
Falling in love is a lot like the perfect lo-fi playlist. It starts playing, and you can't stop listening to the same songs on repeat until you reach a point where you suddenly find the playlist a little bland, a little boring.
Falling in love is a lot like, OH CUT THE CRAP, IT ALWAYS BOILS DOWN TO LOTS OF GOOD SEX! So let's not beat around the bush and talk about what we always talk about best – SEX AND LOTS OF IT!
Today's Focus: How To Ride A Guy?
Yes, we all know how to ride a guy at this point but what if I tell you it can only get better with time? You gotta scroll down, girlll, because it's about to get a little dirtier than you expected.
Always On Top: How To Ride A Guy?
You are not really having good sex until you figure out how to ride a man – yes, yes, you have to get on top, everyone knows the drill, but that doesn't ensure you are hitting all the right notes of pleasure. Riding a man is like one of those things which appear to be a simple affair attracting more and more people to take a try.
And then, one day, someone just spits it out that you aren't hitting all the right points. Could be a pretty awkward experience, but don't you worry, girl, because I have got your back. I have been there, done that, and now I am here to support others #womensupportingwomen
Without wasting a single second, let's dive straight into the intricacies of riding a man, leaving him obsessed with your body and those dirty moves!
1. Whispering 'F**K Me' In His Ears:
I have never met someone who wanted to have bad sex, but I did meet several people who have had disgusting experiences when it comes to sex. But the thing about good sex is YOU CAN'T PLAN IT ALWAYS. Sometimes, you just gotta whisper 'fu** me' in his ears!
And when he is just about to go all missionary on you, you gotta take charge and start riding him as you have never ridden him – don't forget to aim deep!
2. Going Down And Getting Wetter By The Minute:
A blow job requires so much effort – teeth placement, gag reflex, suction, and jaw stress, and that's so not all. You can't forget about all the moaning, the breathing, and the bobbing up and down – I mean, they call it a job for a reason! If you do it right, then trust me, you are gonna be so wet down there!
Your man will be so turned on that you would have no problem pushing him back on the bed and sitting on him – trust me, hun, you will know how to ride a guy for both your pleasures as long as you keep it sexy!
3. Becoming Daddy's Dirty Woman: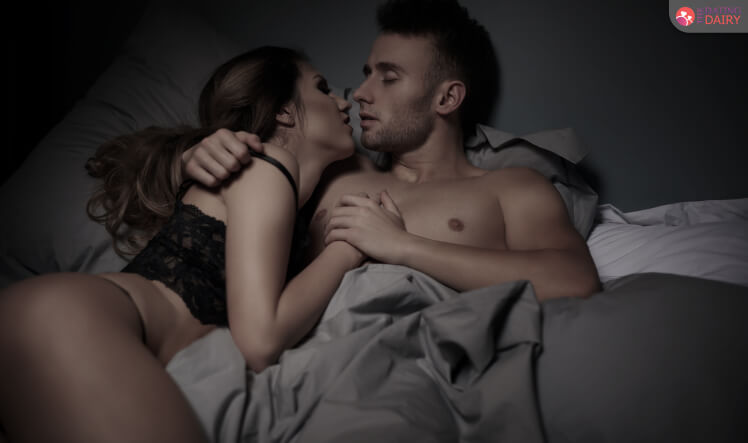 I love playing daddy's little girl, but then I also believe in empowering women and power dynamics. So move over all you daddy's little girls because it's time for daddy's dirty women to take center stage. The key to being dirty is a tiny pleated skirt, a white blouse, and a touch of red lips. You can also experiment with lacy stockings, high heels, and tousled hair!
Daddy's dirty woman doesn't let daddy do as he pleases. Instead, Daddy's dirty woman seizes the day and takes control when needed – as long as you are clear about the difference, you will be just about fine.
4. Nailing The Art Of Moaning:
Knowing how to ride a guy is useful data, but nailing the art of moaning is standing proudly on the road to sex-heaven! While experiencing the legendary cowgirl sexual position, you gotta moan – it's just not about him, it's about you too!
But since you are in charge, you can ensure that you are pulling all the right pleasure notes and expressing your feelings…sometimes a little too loudly!
5. Slow And Steady For Orgasm Champion:
Please, all of us want to need a good orgasm, and a good orgasm needs time. At 26, I am not seeking rabbit sex with a man who can't even think about my pleasure. If you are gonna get laid, then you might as well cum otherwise, what's the point of putting in the time and, more importantly, all that effort!
Knowing how to ride him technically is also about your orgasm – going slow but steady is your best shot at an experience that lasts longer, enabling both of you to have the best sex ever.
6. It's All About The Eye Contact:
The thing about having a lot of good sex is also about several external factors. For instance, choosing to keep the lights on can be more fun than you ever anticipated. Similarly, everyone will tell you it's awkward to maintain eye contact, but then that's what makes things so much hotter, especially when you are on top.
The sexiest thing about a woman riding a man is eye contact – keep staring at him while he is inside you and watch him unravel right in front of your eyes. It does feel very empowering…trust me on this one!
7. Hips Don't Lie:
Shakira has been saying the right thing all along, 'my hips don't lie,' and that's the best advice I can give you while you are figuring out how to ride a guy. Men love their women on top, more importantly, men love watching their partners sit on them – you gotta make sure those hips don't lie while you are on top.
If you get tired, you can always top and engage in some good old makeout session or play with his body!
8. Change Is The Only Constant:
In life, everything is subject to change, and you can safely say that change is the only constant. Guess what? So naturally, there's nothing different about getting laid as well – you can change your partners or, even better, change your positions for the most effective results!
Sometimes, a little grinding can do you good when you are engaging in bouts of sexual riding with your partner.
9. Let Your Partner Take Control:
The key to having great sex lies in letting your partner take charge when needed. There are no set steps for nailing the cowgirl sex position, but as long as you maintain eye contact, grind that bootie hard, and let your partner take control when he wants to, trust me, you are making your man go crazy.
Knowing how to ride a guy has a lot to do with also knowing when to let him seize control. So let me grab your waist and help you to ride him – it only makes the experience hotter, if not wilder.
10. Feel Hot, Look Hotter:
When you are riding on top, it's not just about how hot it feels, it's also about how hot you are looking while doing the act. So for starters, tie that hair up, preferably in a messy bun, in case you have wild, unkempt hair. But if you are a salon girl, keep it open and out of your face. You don't want your hair to cover your face, trust me!
It takes very little effort to look sexy in bed – it's more difficult to find out how to ride on top, I mean, the exact mechanics of it. But you know the thing about perfection? You just need to practice perfection!
One Love, Multiple Lovers: Good Sex Has No Competition
There's no competition for good sex – so you can't fall for one man when the world is a stage and there are so many players. Don't settle down for mediocrity when you can have the world at your feet. So, let everyone find out how to ride a guy while you set the scene for arousal, right? It's not just about the act, it's also about the pleasure component and the effort that goes behind the ultimate orgasm(s)!
Go, babe, ride him like you have never ridden him before, and don't forget to tell us your thoughts on how to ride your man in the comments below – you can also share with us some of your experiences!
Barsha Bhattacharya
Barsha Bhattacharya is a senior content writing executive. As a marketing enthusiast and professional for the past 4 years, writing is new to Barsha. And she is loving every bit of it. Her niches are marketing, lifestyle, wellness, travel and entertainment. Apart from writing, Barsha loves to travel, binge-watch, research conspiracy theories, Instagram and overthink.