It doesn't matter how long you have your partner in a relationship-intimacy is always required when you want to have sex with them. But, more than often, we find couples who are struggling with their sex lives. They end up losing all their passions and sparks from their relationship after some years, and that's when they start having routine sex instead of passionate sex.
But, if you want your relationship to be healthy, you must learn to have passionate sex. We know after some months, or years passion begins to fade, and it is especially true for married couples. But, we will advise you in some ways to reignite passion in your sex life.
What Is Passionate Sex?
To have passionate sex, you must have a lot of emotion involved in your partner. Like Peter Porter said, 'Love without sex is still the most efficient form of hell known to man.' We know what he meant by it. But don't think we are talking about ripping clothes apart and getting on with it in the parking lot when referring to passionate sex.
Those are all Hollywood bullshits that we get fed up with from childhood and begin to thrust into our relationship. But, true passion does not mean you have to be vulgar. If you have an intense longing for your partner in your heart, you may better describe to us what passionate sex is.
You must have a strong liking towards your partner that makes you want to explore every nook and corner of their body whenever you get the chance. Especially some couples get to have passionate sex when they fight for a long time and resolve it finally after a few days, or months.
You are not necessarily looking for satisfaction in passionate sex because that will mean lust. Now, love is, of course, bound with the shackles of lust, but when the lust overpours the love, it does not stay passionate anymore. So in passionate sex, you strive to give your partner the ultimate satisfaction while enjoying it.
What Are The Best Ways To Have Passionate Sex?
If you plan to have passionate sex with a hooker on your next one-night stand, this article is not for you. But, as we mentioned before, you must have a strong liking towards your partner, and that's when you can have passionate sex to its core. So, let's look at some exciting ways to have passionate sex now.
1: Tease Your Partner With A Lot Of Spontaneity
Suppose you want to have passionate sex, the best way to tease your partner when he does his regular work. For example, you can sneak up on him when he cooks or prepares an introductory presentation for the office tomorrow. Go up to him while he takes a bath, or go under him when he enjoys a soccer match on TV.
If you are bold enough to make the first move, there will be nothing sexier than that. Being just spontaneous means adding more fun and spark in your sex life, which indeed induces passion. It will make you irresistible for your partner, and you will have the time of your life.
2: Make A More Emotional Connection With Them
If you want to have passionate sex, make sure you keep some time aside for your partner. Arrange some date nights to make your partner feel special. Especially if you are in a long-term relationship, you need to take some time out for your partner once in a while. You can also arrange date days instead of date nights if that works for both of you.
It's just a simple way to reconnect with your partner. If you miss out on reconnecting, you won't ever get to have passionate sex. But, on the other hand, if you happen to connect to your counterpart on a vulnerable level, your partner will cling to you more. And, that's how you have the most passionate sex of your life.
3: Try Out New Sex Postures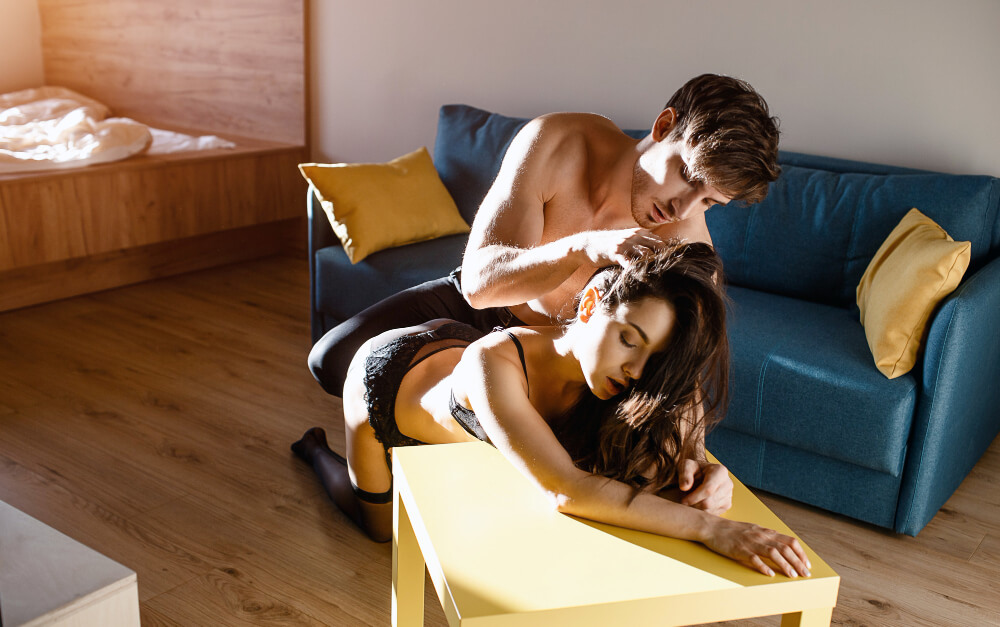 No matter how kinky it sounds, trying out new sex postures is always an excellent way to have passionate sex. You just have to be open-minded about it. Once you do that, you will get to have more fun in your sex life. And, maybe you can also learn some news postures that'll give you the maximum amount of pleasure.
For starters, you can start having sex in the reverse cowgirl position or sit on the throne. Come out of your comfort zone from the missionary posture, and explore new ones. It is human nature to explore new things because that's what keeps their lives exciting. So, try it out the next time you have sex.
4: Self-Love Is Important
This tip is mainly dedicated to women because there is still a lot of confusion regarding women's orgasms. Now, if men can get orgasms from watching porn, so can women. So, everyone needs to masturbate but once in a while. Only you know the best how you like to be touched, so apply that trick.
If you always crave sex to get satisfaction from your partner, you will soon turn them off. So, make sure you touch yourself and learn to give yourself some pleasure. In that way, you can better guide your partner on how to satisfy you, and you may also learn new ways to please him.
5: Role-Playing Is Not A Myth
If you want to have passionate sex, you must think of some sexy costumes for the bedroom. Choose some sexy lingerie, and undress in the most vibrant way possible. You can try role-playing and choose some seductive costumes to turn your partner on. Choose a body-hugging baby doll that amplifies your shape, and let's see how he responds.
Take equal time to dress up and take off clothes from one another. It shows how much you nurture each other's bodies, which will induce more and more passion. You can also set foot on your fantasy land with role-playing and explore new sides of your partner. How do have more passionate sex? It is not an urge for knowing things but rather a way to get things done.
6: Make Your Partner Your Dessert
Take the creamy desserts on the bed, and have them from your partner's body. Make sure the dessert is not too sticky, else it may irritate the other person. Just use a simple chocolate mousse, or ice cream, and drip it slowly on your partner's body. Now lick it off from their bodies, and that is bound to make them horny.
If your partner seems to like this trick, next time, drip the dessert on some more sensitive body parts. For example, if you dripped it on their bellies and liked it, make sure you use it on their necks the next time.
7: Let The Neighbors Know His Name
If you think your moans sound like those of porn videos, you are getting it wrong. Don't compare your feeling of pleasure with anyone else. Don't hold yourself in because if you moan, your partner feels that you are enjoying the time. So, let the neighbors know your partner's name because that's what makes it so sexy.
If you want to have passionate sex, you have to be loud. No, we are not saying you have to be loud forcefully. But, we are simply saying that you don't need to restrict your feelings. Just go with the flow, and scream his name so that other people get jealous of your sex life.
8. Have Sex Everywhere & Anywhere 
Creativity and Naughtiness form an integral part of human life. If you want to spend a good time with your partner then only choosing the bedroom can be boring at times. Passionate sex demands freedom and pleasure to the highest level.
A swimming pool, kitchen counter, and hot tub are some of the places where you can spend a good time with your partner. Do not be a boring sex partner rather enjoy every moment of your life where you get space.
9. Be Spontaneous 
Spontaneity is one of the most dominant factors which can fuel your sex life to the next level. Sex can be boring at times if you consider it a regular habit of your life.
Do not wait for the other person to start things rather make your first move to start the sex with your partner. You can make your first move with your partner to enjoy the juice of passionate sex.
10. Connect With Your Partner On Deeper & Emotional Level 
Set aside some time frame for your partner. It will help you to enjoy better sex life. Emotional attachment with your partner can make things work well for you. Try to give some space to your partner while you want to have some cherishing moments with your partner.
With the growing relationship, your partner becomes more comfortable with you. You will feel connected with your partner and things can be more igniting if you want to have a good time.
FAQ( Frequently Asked Questions)
1. What Is The Difference Between Passion & Lust In A Relationship?   
Passion and Lust are two different things you must not mix them together. Passion actually denotes intense enthusiasm. It can take the form of love, and positivity. On the other hand, Lust covers the desires and need for immediate fulfillment and it comprises the strong desires for making satisfaction.
2. Can Your Partner Come Closer To You After Having A Passionate Sex? 
Yes!! your partner can come closer to you after having passionate sex with you for some time. It actually ignites the bonding between the two-person. It catalyst the relationship between you and your partner. In a simple sense, it builds up a positive relationship between you and your partner.
3. Is It Necessary To Love Yourself Before Having A Sex? 
Yes!! If you cannot love yourself then how you can give love to someone else. It is impossible for you to love others unless you love yourself in the first place. Needy people, most of the time do not love themselves. This is where they get stuck and things grew worse for them at the time of having sex.
4. Does Ambience Of The Place Matter?   
The ambiance of the place sets the tone and the mood for having passionate sex. When you make the arrangements for such a romantic moment then it kindles the passion of love and wild sex within you. You just have to go in the mood to enjoy the precious moments of your life.
5. How You Can Arouse Five Senses For Sex? 
The five senses of your partner can heighten your passionate sex. Give time and make the best arrangements for the precious day of your life. You can follow the following techniques:-

• Light up the candles and light up some sexy red lights to kindle the fire between you and your partner.
• Make use of the scented candle like lavender to arouse the sex within your partner.
• Ensure that the background of the music arouses high sex appeal among your partner.
Final Thoughts
If you want to have passionate sex with your partner, you can apply any of these tips from the list. But, trust me, even I have used some of these tricks and explored an entirely new side of my partner. You just have to open your minds and be more carefree if you want to have such an aesthetic experience. So, implement them, and let us know how it went in the comment box.
Additional Reading: