Viewing going down on a woman as a voluntary aspect of foreplay is not necessary. There is no time limit, and you can do it quickly or correctly. However, learning how to eat a girl out is not a task to be completed as quickly as possible so that you may go on to other things.
We know that every woman is different. They have different bodies, attitudes toward sex and styles. Therefore, when going down on a woman for the first time, it'll be a new experience altogether, as if you've never been down on somebody before.
Everyone knows that oral sex is the most effective approach to cause an orgasm in someone with a vulva. According to research, long-term partnerships between couples who engage in oral sex are happier and more sexually active.
Women are more likely than males to engage in oral sex with their partners. However, some women find it difficult to break out of their thoughts when it comes to oral.
Before Knowing How To Eat A Girl Out…
Before we start explaining how to eat a girl out, you must understand and take care of certain things—
Proceed Only When Your Partner Is Comfortable
Some people are embarrassed by how their vulva tastes, smells and looks. Some people find it unpleasant when everyone puts their focus on them. You can enjoy each other's bodies in various ways as well if your partner isn't ready for this.
On the other hand, encourage your partner if they want to attempt oral sex but are uncomfortable with you getting close to their genitalia. Oral sex is probably not on the table if your partner claims it isn't. Offer some reassuring words if they seem anxious about having oral sex.
Speak out when you like something about your partner's physique, especially their taste. Boost their confidence and, of course, talk dirty while you're down.
Do Not Jump Right To The Action
Don't undress her and go to the main event. Instead, tell her how amazing she smells and how nice she tastes. Enjoy her body hair and whatever it may be. Then, before kissing her, turn her on by stroking her chest and inner thighs with your fingers and mouth.
A lady won't experience an orgasm if she feels self-conscious when your face is in her crotch. Therefore, it is your responsibility to help her unwind and make sure she appreciates her attractiveness.
How To Eat A Girl Out – Ultimate Guide
Finally, we're here. But don't get too excited yet. Remember, it's a looooooong long way down there. And therefore, if you want to flourish in the act, start with a lot of time in hand.
Keep reading the steps to learn how to eat a girl out —
Kiss Your Way Down
Kissing is always the initiator of all sexual acts. You can't leave out a single corner when you kiss your way down on her.
Mark this trail with little kisses. Start from their neck down to the area of their pelvis to heighten the tension. Kiss her neck, feel her up, and let her know you will start working by kissing her passionately.
When you stick your tongue in her vagina, oral sex doesn't even start—most women don't like it. So spend some time preparing a girl's body before you go down on her.
Kiss her neck, breasts, hips, and inner thighs, among her most erogenous regions. If you softly touch her, you risk tickling her, and that's not what you want.
Tease To Get Her Attention
Increasing your intensity in providing your service could seem reasonable if you're striving to accomplish an excellent job. However, enthusiasm and intensity are different; although the former is perfect, the latter may be excessive.
To begin with, you should gradually introduce yourself to playing with the clit rather than jumping right in. The clitoris is the female counterpart to the penis. Therefore, treat it gently, just like a man would their penis head.
Have sex for a while. Kiss, softly bite, and squeeze your partner's nipples. Then, insert one or two fingers and start stroking their clit with them.
Slowly and gradually increase pace and intensity as you rub in circles. Then, move your face down to vagina town as soon as you see they are genuinely turned on and prepared.
However, lick around but not on it at first!
Get Your Tongue To Action
The clitoris, which is the top of your partner's vulva, is where you may remove her most easily. Try licks upward, lifting from the base of the tongue and gliding up along the clitoris if you're unsure where to begin.
With this strategy, you'll undoubtedly make her call your name. Next, try lapping a girl's clitoris if you're seeking a novel approach to getting her off! The region of your partner's vulva that expands in reaction to stimulation is known as the clitoris.
Use your entire tongue to arouse both of her labia simultaneously. Instead of going directly for the clit, start with broad, soft pressure. The inner labia meet at the apex of the vulva, where the clitoris is a delicate, sensitive nub.
If you are unable to locate your partner's glans using your eyes, you may be successful using your tongue. The way vaginas work is that there will always be one aching, one need, and one "hole to fill," but you have to hurl a lot of s— at that hole.
Get Your Fingers In Action Too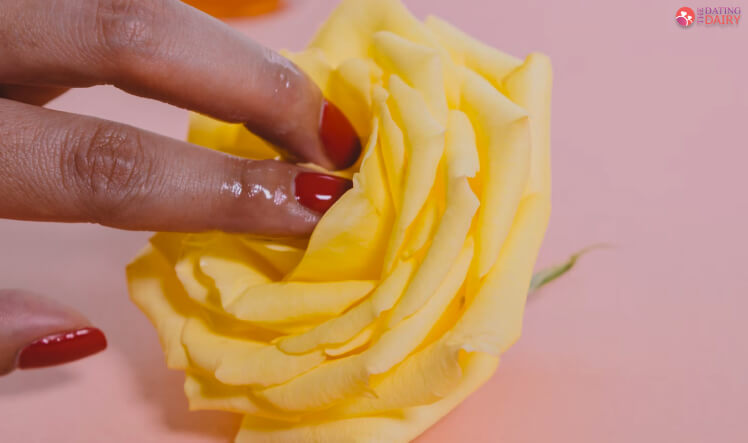 Use your fingers and tongue simultaneously to add on the moans from your partner. Instead of going directly for the clit, start with broad, soft pressure. It's acceptable to desire to be creative sometimes.
Your spouse could appreciate constant pressure on the front of their vaginal wall, a "come hither" motion, or thrusting. You may also enter a finger via the rear entrance when learning how to eat a girl out.
Additionally, you should use a lubricant to prevent internal anal play. Some vaginal individuals prefer having oral sex while being fisted.
You will put your finger into her vagina and activate her G-Spot while kissing or sucking her clitoris. It's 2-3 inches deep and directly above the vaginal wall. You can also use other fingering methods, like poking your fingers in and out of her genital area.
Mix The Positions
You're probably eager to finger your spouse right now because you've learned the various cunnilingus techniques. Just be patient, my friend. You still need to be aware of the additional dining-out advice.
It's OK to engage in oral sex while lying down or in other common positions, but it could grow dull if you keep doing the same thing. So mix it up when you're learning how to eat a girl out—
Simply ask your companion to assume the doggie posture for the Good Doggy. This posture is ideal if you want to finger her anus or vagina while eating her out. Your companion will undoubtedly enjoy this position if she enjoys kinky things. Before tying them up, don't forget to acquire their permission!
Your companion will straddle you while you are in "hail The Queen" posture. This is effective if your partner is setting the action tempo. The Pancake method also performs best. Use the other ways to eat a girl out on this list.
Do a 69 position if you want a definite way to make each other cum. You and your lover will be on each other's end during this oral sex. You might want to consider the different positions listed if you're going to concentrate completely on pleasing your lover.
Additionally,
When the providing partner is face-down between the receiving partner's legs, it is called "missionary oral sex." Grab their thighs and lift their legs over your shoulders while you lay down on them if you want to engage in the rougher activity.
Some individuals feel self-conscious about having their privates exposed, although rimming may be a scorching transition from this.
And Moans…
Edging might make your partner have longer, more powerful orgasms. This is because you will repeatedly take your girl out, then halt as soon as she is ready to cumulate. Continue eating her when she has completely calmed down, then put her back on edge.
Use this method 2-4 times, and then watch as she has a one-of-a-kind orgasm. Simply said, an orgasm is the icing on an already wonderful cake.
Make sure you keep doing what you're doing when they get close since you can tell by their body signals whether your spouse is ready to climax. You must complete the mouth work before attempting to go on to sex.
Things To Remember When You Eat A Girl Out
Given below are some of the important things you must keep in mind when learning how to eat a girl out —
No Funny Business
Don't make light of someone else's pussy. Don't execute "moves." Don't keep trying and don't go back to trying to "win." The worst scenario is when someone says, "I'm absolutely going to blow your mind right now," buries their face in your legs and begins snorting on your pubic hairs.
Simply flatten your tongue on the pussy while making it incredibly soft and broad, and then start doing slow, steady laps. Next, wrap your arms around the girl's thighs while performing that motion slowly.
Maintain The Intensity
While increasing your intensity during oral sex may seem natural, there is a distinction between excitement and intensity. To begin with, you should gradually introduce yourself to playing with the clit rather than jumping right in. The clitoris is the female equivalent of the penis head or glans. Therefore, treat it gently, just like you would your penis head.
No Teeth Is The Rule
No, a vagina is not gum. It is not interested in being nibbled. So sweet snacks are not appropriate just now.
No!
You keep your teeth where they belong, behind your lips and tongue on the clit. It's not a rack of baby back ribs; it's a vagina.
Enjoy The Act
Remember, how to eat a girl out should not become a task for you. At the end of the day, you must enjoy the act equally. Let your partner touch you while you lick her out. Let their hands run through your hair and softly thrush your head inside them.
It's all a wonderful feeling where you must bond with each other, fight your trust issues, and in the end, come out as better, happier, and more satisfied individuals.
Additional Reading: